The very first Internet Domains

It was alread in 1985, March 15
that was registered the very first .com Internet Domain.
Only very few Technology corporations
and hi tech individuals,
almost exclusively based in the US
register .com Domain names.

It takes 10 years until the first Pioneers
of the Internet start become active.




More about the very early
Domains like HP.com, GE.com or TI.com
in the VB.com Internet Hall of Fame
edited by the author of this article.

France Telecom misses
the today extremely valuable Two Letter domain
FT.com registered 1994 November 30
by the newspaper Financial Times.

The full FranceTelecom.com was registered
a year later 1995 September 14.
The French Minitel Directory becomes
Pages Zoom.com
France Telecom´s rising Internet activities
are reorganised
in the Wanadoo Division,
which includes Internet Access,
France Telecom webportals like Voila or Alphapage
and the Directory Division
ODA (parly still owned by Hachette).

ODA edites printed paper directories (annuaire papier)
and the Minitel Directories now called "Pages Zoom 3611".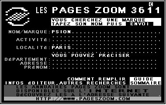 1996 Wanadoo decides to launch
an internet version of their
very successfull Electronic Minitel Directory 3611.

PagesZoom.com is the first French Phonebook
online since 1997
It is launched under the management of Laurent Souloumiac.

Pageszoom.com becomes the new brand for the Internet Directory
a brand which was chosen as is was already associated
to Minitel Directory 3611 for a short period.

Pageszoom.com exists in two languages
and in several version

english
There are "Yellow Pages" and "White Pages"
are also "Brand Pages" and Pages Web.

In 1996 Yellow and White Pages
were already an International Standard ....

The expression has been
invented a long long time ago,
back in the late 19th century
during at the time the Eiffel Tower was constructed.

The names
Yellow Pages and White Pages have been
printed on billions of paper phonebooks
all around the world.


The french version uses
the franch translation, "Yellow" becomes "Jaune",
"White" becomes "Blanche"

The sections are called
Pages Jaunes, Pages Blanches,
Pages Marques and Pages Web.


Pages Zoom.com in French
first online
Phonebook in France

Pages Zoom.com in English
Honestly would you think about going
to the Zoom Pages.com
or to the Pages Zoom.com ?

Rebranding to Pages Jaunes
The name "Pages Zoom" doesn´t seam to be the best.
| | |
| --- | --- |
| | |
All over the World Telephone Directories are called
White Pages and Yellow Pages

Some non english speaking countries
use the English term Yellow Pages

others a translation into their respective language:
French = Pages Blanches / Pages Jaunes
Spanish = Paginas Blancas / Paginas Amarillas
Italian = Pagine Bianche / Pagine Gialle
German = Weisse Seiten / Gelbe Seiten

So the Wanadoo people decide
to rebrand their Directory from Pages Zoom.com
to Pages Jaunes.com

There is only one problem
a lot of time has been lost
between 1996 and 1998
... very valuable time in what concerns
the registration of great Internet Domains.


While the first Internet Domain was registered in 1985
it took about a decade for companies to realise
that they could register domains,
mostly US Technology Firms were among the early birds
but in 1995 / 1996 the very good .com names
go very quickly
... for a couple of dollars anybody can register
whatever name he wants followed by .com





And when Wanadoo wants to register
pagesjaunes.com in 1998
the big surprise ...
the domain pagesjaunes.com
is already registered
... since 1996 April 9

Internet Pioneer Jean Noel Frydman,
founder of Pagesjaunes.com
It is the Internet pioneer Jean Noel Frydman from Miami,
editor of yellow pages for french speaking people in the US,
who owns the domain.
The marketing people from Wanadoo
are 2 years late,
much too late



Jean Noel Frydman

is a real Domain Pioneer
also owning the domains
France.com
and Israel.com

Pages Jaunes.fr go online
1998 April 12 France Telecom
registers the domain pagesblanches.com.


1998 July Wanadoo completes negociations with Havas
to buy all remaining shares of ODA (Office d´annonces in charge
of selling advertising in French phonebooks).

France Telecom has no difficulties to register the .fr domain
as registering .fr domains is very difficult and restricted
(until 2004 Mai 11)
1998 November 25 is registered pagesjaunes.fr
1998 December 30 pagesblanches.fr

not clear if pageszoom.fr was ever registered
but oda.fr was at a very early time
... 1995 January 1.


The rebranded Pagesjaunes.fr Directory goes online in 1999


2000 July
It is also the company name
ODA which gets rebranded to Pages Jaunes
The new company is integrated into Wanadoo
which enters the French stockmarket 2000 July 18.

pagesjaunes.com logo



Lawsuit over Pages Jaunes..com


The only problem is the domain pagesjaunes.com

Under the management of Michel Datchary
ODA / Pages Jaunes in Sevres
might have been
too proud to enter negociations
to buy the valuable domain name.

Instead the company tries everything to get it for free
via their trademark lawyers.

Fights over .com internet domains are handled by
the Internet Arbitration and Mediation center
at WIPO, the World Intellectual Property Organization




Wipo




The Case N°

D 2000-0489


is decided by 3 panelists


Francois Dessemontet, Clive Torne and Christian Andre Le Stanc



Andre Betrand, trademark lawyer
The domain pagesjaunes.com
was defended by the famous trademark lawyer Andre Bertrand,
a kind of an icon in the world of law.

Jean Noel Frydman can keep the domain pagesjaunes.com
Next
...
Whitepages come online
in France and around the World ...