1997 The French Minitel Directory becomes
Pages Zoom.com
France Telecom´s rising Internet activities
are reorganised
in the Wanadoo Division,
which includes Internet Access,
France Telecom webportals like Voila or Alphapage
and the Directory Division
ODA (parly still owned by Hachette).

ODA edites printed paper directories (annuaire papier)
and the Minitel Directories now called "Pages Zoom 3611".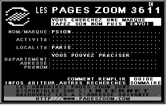 1996 Wanadoo decides to launch
an internet version of their
very successfull Electronic Minitel Directory 3611.

PagesZoom.com is the first French Phonebook
online since 1997
It is launched under the management of Laurent Souloumiac.

Pageszoom.com becomes the new brand for the Internet Directory
a brand which was chosen as is was already associated
to Minitel Directory 3611 for a short period.

Pageszoom.com exists in two languages
and in several version

english
There are "Yellow Pages" and "White Pages"
are also "Brand Pages" and Pages Web.

In 1996 Yellow and White Pages
were already an International Standard ....

The expression has been
invented a long long time ago,
back in the late 19th century
during at the time the Eiffel Tower was constructed.

The names
Yellow Pages and White Pages have been
printed on billions of paper phonebooks
all around the world.

The french version uses
the franch translation, "Yellow" becomes "Jaune",
"White" becomes "Blanche"

The sections are called
Yellow Pages, White Pages
Brand Pages, Shopping

Pages Jaunes, Pages Blanches,
Pages Marques and Pages Web.





Pages Zoom.com in French
first online
Phonebook in France

Pages Zoom.com in English